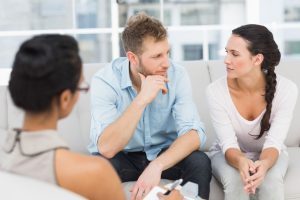 Marriage counseling is an excellent tool for couples who are having issues with communication, trust, conflict resolution, or are otherwise unhappy. Working with the right professional, you will be able to better understand and, hopefully, improve your marital situation. With time, dedication, effort, and the right resources, you and your partner can reconnect and reestablish a healthy relationship.
If you want your marriage counseling efforts to be successful, there are a few things you can do to get the most out of your sessions:
Focus on problems, not flaws.
Going into marriage counseling with a laundry list of things you want to change about your spouse is a recipe for disaster. Before your first session, the two of you should sit down together and pinpoint the issues that are putting strain on your relationship. This way, you'll be able to clearly present your problems to your counselor and not get caught up in a blame game.
Make goals for yourself.
If you're not willing to work on yourself and do your part to make your relationship healthier, then you're wasting your time in counseling. Be open to listening to your spouse's feelings and concerns and taking responsibility for mistakes you've made. Work with your counselor and on your own to examine your behavior, identify and modify problems, and set personal goals for being a better partner.
Do the homework.
Often, a marriage counselor will give you assignments, exercises, and/or readings to do in between sessions—do them! Doing your homework shows your counselor and your spouse that you're taking everything seriously and committed to working on your relationship. Remember; your counselor is giving you these assignments to help you learn new relationship skills and reconnect with each other.
Give it time.
Marriage counseling is not a quick fix. If you want it to succeed, then you have to go in with realistic expectations for how long you'll need to work on your marriage. Be patient, do the work, and give it a real try. Don't expect to see results in just a few days, weeks, or sometimes even months. Changes are often small, so keep that in mind too as you're evaluating your progress.
As a marriage and family counselor for over 35 years, Luan Jackson of Abundant Life has helped countless couples reconnect, reignite their love, and go on to enjoy a happy, healthy relationship for decades to come. Luan offers her services to couples in the Lapeer, Michigan area, as well as remotely over the phone. Both options are equally as effective.
Contact Abundant Life today for a free initial consultation to discuss your counseling goals!