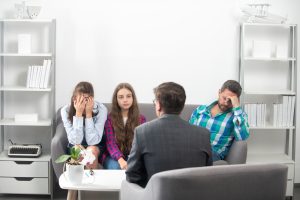 One cannot escape this life without a little family drama. We cherish and admire our loved ones, but disagreements and issues are inevitable and normal! It's important to remember that although you are related to your family members by blood, that does not mean you have the same way of thinking or opinions. We are all different, and spending a decent amount of time with anyone is bound to create tension and unavoidable arguments, especially if you live with one another.
Here are a few common causes of family conflict to look out for so you can do your best to avoid potential issues in the future.
Money
Disagreements and arguments about money are extremely common within families. Financial issues can have a destructive impact on family members, especially spouses. Whether it is a concern about money management, who pays for certain bills, an inheritance debate, etc., family financial conflict is a big reason why loved one's fight.
Blended Family
When two families blend, there comes a huge learning curve for everyone involved. When young children are thrown into a new living environment with other children or a new parent, there can be some animosity and sometimes confusion, leading to petty arguments, rule-breaking, disrespectful behavior, and angry outbursts. There also can be differences in parenting style, another major reason for blended family conflict.
In-Law Conflict
Personality clashes or differences in values can lead to many conflicts among in-laws. This is a very difficult position to be in for all parties involved, especially for the spouse who must watch their family member bicker and argue with their partner. It is hard seeing the people you love the most in the world not get along, and it can lead to a lot of stress and drama.
Lack of Communication
Poor communication among family members can lead to crossed boundaries, unmet needs, missing important events, and overall household chaos. Communication is key in every relationship, especially within the family unit. Your loved ones need to be comfortable talking with one another about important issues and the small things because the more open they are, the faster and more efficiently problems can be solved.
If you are struggling with continuous conflict with a loved one or your family, it is important to seek help before things get any worse.
At Abundant Life, we have conflict resolution counseling for families struggling to get along. We provide proper training and practical techniques for you to learn how to deal with conflict safely and realistically among the people you love most.
Call (810)252-1315 for a free, no obligation, consultation, or fill out our contact form online to inquire about our unique and beneficial services!