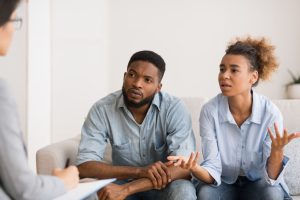 There's a stigma in much of our society around marriage counseling that seeking out help means you and your relationship have failed. To many, it is an option only for a last resort or if something big and dramatic happens (a blowout fight, an affair, etc.). But the truth is marriage counseling can help any couple, no matter how big or small your problems might seem, and even if your relationship is already pretty healthy.
If you're dealing with any of the following issues, marriage counseling may be exactly what you need to get back on the right path.
1) You're not communicating well.
Effective communication is the foundation of a healthy, lasting relationship. All it takes is one or two misunderstandings to spiral into much bigger problems. A marriage counselor can help you learn more about your partner's communication style, come up with productive strategies for discussing emotions and problems, and help you implement them effectively.
2) You can't move past an issue.
If something has happened recently (or even further in the past) that has impaired the ability for either of you to trust the other, it can be difficult to move past it and truly forgive on your own. The issue could be something as complex as infidelity or as simple as a few harsh words said in a fight that stuck. Marriage counseling can help you really process that issue emotionally, work through it together, and learn how to trust again, so your relationship can heal.
3) You're lacking intimacy.
Sex and intimacy are an important part of a successful marriage. If your sex life has changed recently, you and your partner have always been on different pages in that department, or you're feeling distant, this can seriously affect other aspects of your relationship as well. Therapy provides a safe space in which you can discuss your sexual needs, preferences, and issues, and come up with solutions to help you reconnect.
As an experienced and expertly-trained marriage counselor—and one half of a 40+ year marriage herself—Luan Jackson is more than equipped to help you navigate your marital problems. In your marriage counseling sessions with Luan, she will help you identify problems and patterns, understand them, and give you the tools you need to resolve them going forward.
Take your first step toward a better marriage and reach out today to discuss your counseling needs!